Ariana Grande's 10 Best Songs!
With Ariana Grande's new hit single No Tears Left To Cry and a highly-anticipated collab with Nicki Minaj coming up, we just had to figure out her 10 best songs!
*Note: this does not include any of her latest singles*
Songs 10 through 6 include some non-singles and some that may surprise you...
10. Best Mistake
Okay Ariana & Big Sean always made magic. This chill r&b tune had to slip in to our top 10!
9. Love Me Harder
Although not her best, it is hard to overlook this...interesting...collab between her and The Weeknd. We have to assume their surprise collab and the catchiness of this song made it what it is, but hey, we aren't mad at it!
8. Greedy
If you are a real Ariana Grande fan in the Twitter-verse, you understand why this song has made our top 10! This should have been a single!! Uptempo beat, great vocals, sexy but innocent song. It's safe to say we will never get over this would-be hit...
7. Dangerous Woman
While this may not be everyone's favorite, it did climb the charts into the top 10 and was a refreshing and different sound that led to an amazing album!
6. The Way (ft. Mac Miller)
Ah, yes....Ariana's first mainstream single. This collab is still a hit several years later (and post Miller-Grande split). As her first single, it had to show off her Mariah Carey-style vocals, and it did just that!
Okay now here is where it gets difficult: The Top 5...
5. Problem (ft. Iggy Azalea)
This killer collab just broke the record for most popular collab a few months ago, surpassing Lady Gaga & Beyonce's mega-hit "Telephone"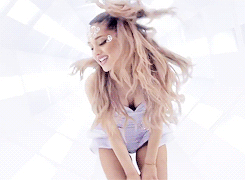 4. Break Free (ft. Zedd)
One of her most successful on the charts, this single ft. Zedd is a stellar dance-pop combo. Of course it made the top 5!
3. Side to Side (ft. Nicki Minaj)
Ariana & Nicki: A duo that brings in the $$! Although "Bang Bang" and "Get On Your Knees" were successful duets, this song takes the cake. Number 4 on the Billboard Hot 100 and Number 3 on our coveted list. What really made this so successful and shot it to the top of the charts? The music video! Check it out below. This music video will definitely go down in pop history.
2. One Last Time
A fan-favorite, this song today is mostly attached to Grande's concert overseas during which several fans died in a horrible terrorist attack. When singing this during her benefit concert for the victims and their families, she got so emotional as the crowd sang along. Check out the video below (sorry in advance for making you cry)!
1. Into You
This upbeat single is a pop anthem! This song kept real pop music alive and fits perfectly in pop history with other pop megahits like: "Toxic," "Since You Been Gone," and "We Found Love." Was this really a surprise?
Honorable Mention: Tattooed Heart, Touch It, Right There
Did we miss your fave? Let us know on Instagram & Twitter (@KBPopCulture)